big fun 2019 lineup
Meet the artists who are playing BIG FUN 2019!
A Hyped Conquest - Presented by Studio 393
(Winnipeg, MB)
A Hyped Conquest is a collective showcase from the young artists of Studio 393, an arts youth drop-in located in Portage Place and a satellite of Graffiti Art Programming. From the spine of downtown Winnipeg, the artists will perform new songs from their self-produced EP as they rap, sing, DJ and share the spirit of where they dwell
Apollo Suns (Winnipeg, MB)
Born of 10 musical minds, Apollo Suns create a refreshing and innovative sound by combining instrumental, jazz, rock and psychedelic music. Winners of the Instrumental Artist of the Year award at the 2018 Western Canadian Music Awards, Apollo Suns create a whirlwind of technical prowess and undeniable groove.
ATLAAS (Winnipeg, MB)
Melding '90s R&B with lush indie electro soundscapes, ATLAAS is an ever-changing compass guiding you through dreams of the future past. Heavenly voices, complex rhythms and an overarching pop sensibility will keep your head in the clouds while your feet are on the ground - and they'll definitely be dancing.
Bernice (Toronto, ON)
Arts & Crafts recording artist Bernice tackles pop minimalism stripped down to the bare essentials. Touching on jazz as much as an enigmatic mix of electronic pop and a unique air of wondered reality, Bernice's clear vocal melodies fly kites over spare arrangements, while their live show will leave you enraptured in a playful intimacy.
Glassreel (Winnipeg, MB)
Glassreel began as a partnership between longtime musical collaborators Kelly Beaton and Trevor Graumann. Their sound resonates with clarity and simplicity within a pop music construct. Using an instrumental approach based on thoughtfully crafted arrangements and attention to sonic detail, Glassreel has achieved a style both striking and artfully sleek.
The Grey Jays (Winnipeg, MB)
The Grey Jays blend the ideas of roots and jazz while arranging Holly Ruth's earnest, vulnerable songwriting with varied orchestration. A sweeping emotional rollercoaster, honest and pointed, they will raise you up with wild crescendos while they hold true to their coffee shop groove.
JayWood (Winnipeg, MB)
The psychedelic groove has shone brightly on JayWood, illuminating a multi-faceted sound with lightning bolts of funk, psych-rock and pop. No longer a bedroom operation, this full-fledged beast thrives on the inbetween. JayWood's rhythm is ever-changing, but always consistently emerges triumphant in a self-realized dream.
Joanne Pollock (Winnipeg, MB)
Joanne Pollock creates her own unique brand of future-pop that never shies away from the unconventional. Breathing heavy whispers across articulate and captivating break beats, her songs are instant ear worms that bore through your mind's eye and keep a kick in your step.
Leaf Rapids (Winnipeg, MB)
Leaf Rapids is Juno award-winner Keri Latimer's opportunity to croon gleefully about vultures circling prey, barbershop stabbings and love letters from smallpox quarantines.
"... so hauntingly beautiful that words do not do justice. Theremin, soothing vocals and a perfectly performed bass part made for a spellbinding, sublime performance." - Liverpool Soundcity Festival
Mark Mills (Edmonton, AB)
Mark Mills crafts sensual pop jams infected with power-posi sonics. He is a burning beacon of furious love, at once perfectly mundane and larger than life. It takes one taste of his searing anthems to become fascinated by his frenzied performance - Mills is an unstoppable force of hooks, charm and exuberance.
Marisolle Negash (Winnipeg, MB)
Habesha/Filipina-Canadian multi-instrumentalist and vocalist Marisolle Negash is an independent R&B artist from Winnipeg, MB. Debuting her work at the TD Winnipeg International Jazz Festival in 2017, she has worked as a creator as well as curator of local music and arts events in Winnipeg since 2016. She was selected as one of three RBC Emerging Artists this year at the Manitoba Showcase, held in Portage la Prairie. Keyboardist for the 8 piece hip-hop/jazz ensemble Super Duty Tough Work, Marisolle draws inspiration from rap, pop and neosoul while building on her classical training. She is excited to present an upcoming project featuring arrangements and collaborations with some of Winnipeg's most reclusive talents.
Mulligrub (Winnipeg, MB)
Mulligrub writes melody-driven songs with twee-punk tendencies. Bittersweet, but mostly bitter, they can be found singing songs about the last day of summer or friends you'll never see again. Mulligrub is angry on the outside and tender on the inside, layered till the end like a burnt marshmallow.
Nocturnal Departure (Winnipeg, MB)
Only in the harshest most barren of wastelands can true black metal be discovered.
Partner (Sackville, NB)
Partner is the songwriting output of best friends Josée Caron and Lucy Niles that chronicles the casual lives of everyday goofball stoners. The duo fuses soaring riffs and delicious melodies, honest lyricism and triumphant post-classic-rock prowess. They are the liberating sound of no longer having to feel ashamed about who you are. Partner is genre-defying: part musical act, part teenage diary and 100% queer.
Pluetoe (Victor Ilunga) (Winnipeg, MB)
Victor Ilunga also known as Pluetoe is a video and performance artist who has been honing his craft since 2013. Recently graduating from Vancouver Film School where he studied game and app development. Despite being a different domain he states he loves activating his creative side and unafraid of the unknown.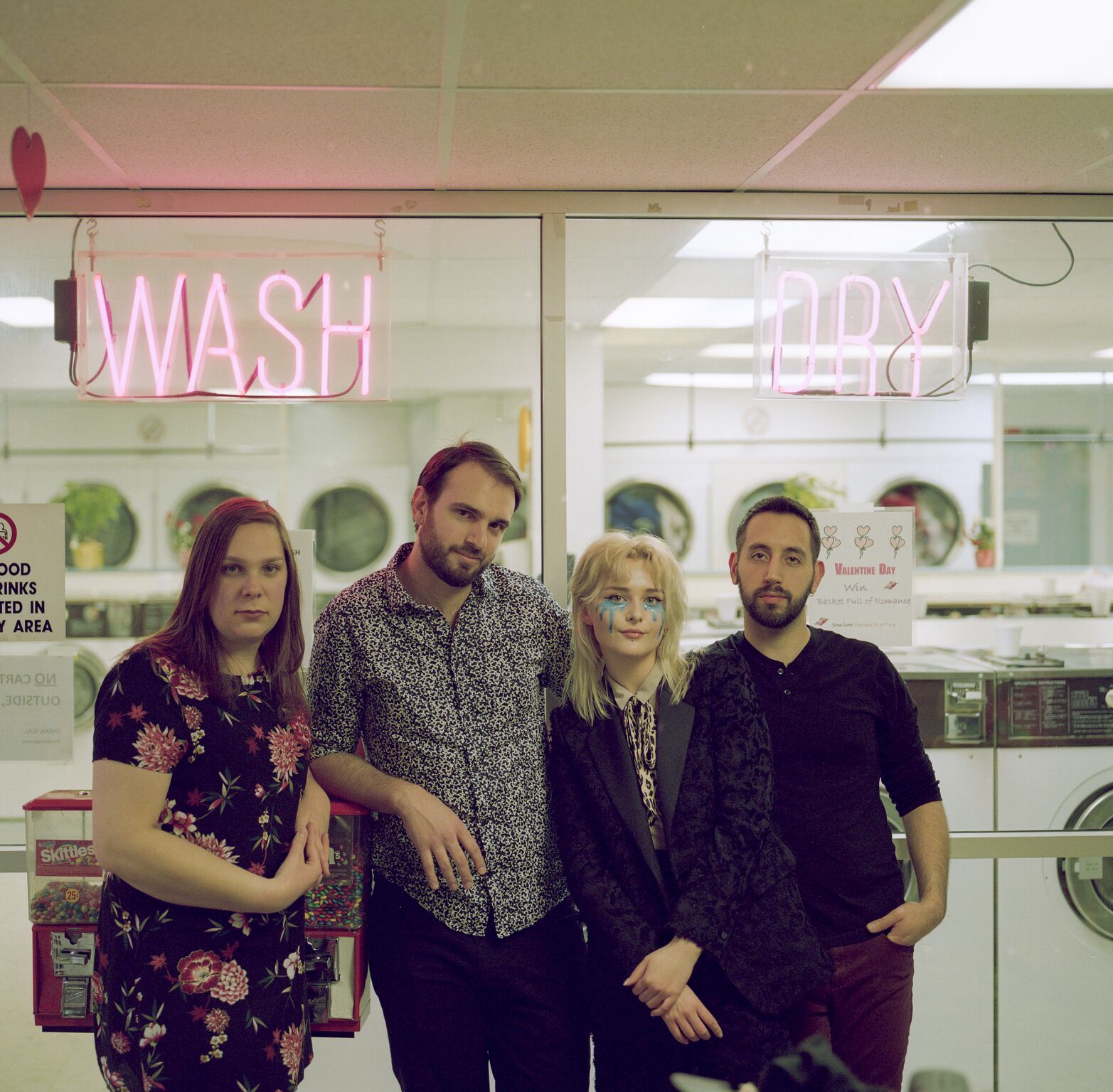 Silence Kit (Winnipeg, MB)
Catchy hooks, screams and noise dance amid melodic guitar and raw power as their champion. Silence Kit blends the driving method of early 2000s alternative and the unrestrained vision of post punk, made readily apparent by their intimate and explosive live performances that always deliver, pure and simple.
Snotty Nose Rez Kids (Vancouver, BC)
Snotty Nose Rez Kids are a hip-hop duo from the Haisla Nation of the Haislakala speaking people. Recreating their identities within their own contexts, they aim to reclaim their voices while sharing them with a wider audience. Zazaxsmalis, otherwise known as Yung Trybez, is a writer, rapper, photographer and spoken word artist of "The People of the Snow," the Haisla Nation. Wa'tla'ka, otherwhise known as Young D or D, is a songwriter/rapper who was born and raised in Kitamaat Village. Together they are the Snotty Nose Rez Kids.
Softswitch (Winnipeg, MB)
Drawn together by their love of post-punk, early bedtimes and DIY electronics, the quartet has crafted a sonic agenda in tune with the bleak nihilism of '90s post punk. With approval by the grandmaster Steve Albini himself, softswitch surges forward with challenging and punishing tracks that bring you back to a time of empty warehouse performances, unhinged punk poets and $5 shows.
Spooky Eyes (Winnipeg, MB)
Spooky Eyes is a local super group fronted by Polaris Prize-nominated songwriter Alannah Walker (Cannon Bros.), along with her friends Brendon Yaris, David Schellenberg (Tunic), and Ian Ellis (Animal Teeth, Iansucks). Inspired by college-rock classics like The Breeders and Guided by Voices, as well as a variety of modern-pop acts, their goal is to write catchy songs that will get stuck in your head for days.
Two Crows for Comfort (Winnipeg, MB)
Filled with rich harmonies and genuine, heart-warming lyrics, folk-roots duo Two Crows for Comfort spins stories into songs and songs into stories. No strangers to the stage, Erin Corbin and Cory Sulyma finally joined forces to begin a journey of their own, venturing melodically across the windswept prairies.
Warming (Winnipeg, MB)
Trading in a white picket fence for living out of a van, synthpop artist Brady Allard writes, records and produces all aspects of Warming's well-crafted pop songs. Allard creates a lush, driving mix of '80s inspired pop, twisted synth noises, lonely arrangements and memories of a life past.
Woolworm (Vancouver, BC)
Featuring existential lyrics, loud-quiet-loud dynamics and emotive guitars, Woolworm is a hardcore band that plays pop music. Crawling out of the pit of Vancouver's hardcore scene, the band has perfected peppy pop songs that simultaneously bear the overwhelming weight of existence. We're not alright, you're not alright, but we all got each other so dive in face first.
Yes We Mystic + 9 (Winnipeg, MB)
Winnipeg five-piece Yes We Mystic are an unstoppable force full of fearless creative energy. They take their favourite bits of folk, rock and R&B, then hurl strings and mandolins together with synthesizers, pedals and samples. The result is music that can mellow and groove, yet in an instant climb to towering, frenzied heights. We are proud to announce that for one night only, these indie pop darlings will be joined in creative collaboration by a secret nine-piece string ensemble from Montreal.
Xertz (Winnipeg, MB)
Winnipeg post-punk outfit Xertz plays songs of desperation and gloom that reference The Wipers and Mission Of Burma while still holding onto the aggressive and emotional sensibility of mid-'80s dischord bands like Ignition and Embrace. Xertz offers a fully realized, cohesive, and cathartic sound drawing from many influences, but that remains fresh and unique.